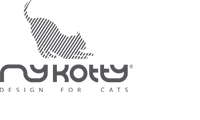 CATS LOVE CARDBOARD - each cat carer knows that.
Corrugated cardboard is a natural, environmentally friendly material
that attracts cats like a magnet.
Just bring any cardboard box home and it will find its cat lover immediately.
However, to live among a pile of cartons is no fun...
That is why we created myKotty furniture.